COUGHFree Cough Syrup Pet Medication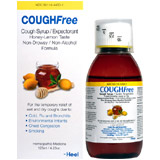 Dog or Cat
Availability: OTC
Active Ingredient(s):
Each 100ml contains Drosera rotundifolia 4X, Ipecacuanha 4X, Rumex crispus 4X, Antimonium tartaricum 6X, Cuprum sulphuricum 6X, Spongia tosta 8X, 1.6ml.
What is COUGHFree Cough Syrup used for?
COUGHFree is a Honey-Lemon flavored homeopathic cough syrup/expectorant used for the temporary relief of wet and dry coughs in dogs and cats.
How COUGHFree Cough Syrup should be used?
The suggested dose in cats is 1 teaspoonful once a day. The suggested dose in dogs is 1 teaspoonful 3 times a day.
What are the side effects?
There are no reported side effects.
What special precautions are there?
If symptoms persist, consult a veterinarian. Use with caution in pregnant or lactating animals.
In the event of overdose?
Contact your veterinarian or veterinary emergency room.
How should I store COUGHFree Cough Syrup?
Store this product at room temperature. Protect from light and moisture. Keep out of the reach of children.
Disclaimer: The information on this site is for educational purposes only and should NOT be considered veterinary advice. Any veterinary questions should be referred to your veterinarian. This information is NOT to be used for diagnosis or treatment of your pet. Please make your own inquiries with your veterinarian for the suitability of a product for your pet.