C.E.T. Enzymatic Toothpaste Pet Medication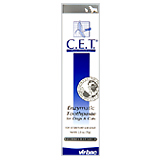 Dog or Cat
Availability: OTC
Active Ingredient(s):
Glucose Oxidase, Lactoperoxidase, Sorbitol, Purified Water, Dicalcium Phosphate Anhydrous, Hydrated Silica, Glycerine, Poultry Digest, Dextrose, Xanthan Gum, Titanium Dioxide, Sodium Benzoate, Potassium Thiocyanate.
What is C.E.T. Enzymatic Toothpaste used for?
C.E.T. Enzymatic Toothpaste, poultry flavored, is formulated for use in dogs and cats as part of a three step program of home dental care involving chews, rinsing and brushing.
How C.E.T. Enzymatic Toothpaste should be used?
Use a soft-bristle toothbrush for dogs or finger brushes for cats. Apply once a day or as directed by a veterinarian. Follow this professional advice closely.
What are the side effects?
There are no reported side effects.
What special precautions are there?
For veterinary use only.
In the event of overdose?
Contact your veterinarian or veterinary emergency room.
How should I store C.E.T. Enzymatic Toothpaste?
Store this product at controlled room temperature of 59°-86°F. Keep out of the reach of children.
Disclaimer: The information on this site is for educational purposes only and should NOT be considered veterinary advice. Any veterinary questions should be referred to your veterinarian. This information is NOT to be used for diagnosis or treatment of your pet. Please make your own inquiries with your veterinarian for the suitability of a product for your pet.