Petrodex Breath Spray Pet Medication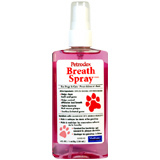 Dog or Cat
Availability: OTC
Active Ingredient(s):
Purified Water, Glycerine USP, Xylitol USP, Zinc Gluconate USP, Flavor, Glycine USP, Sodium Benzoate USP, Potassium Sorbate USP, D&C Red #33, Lysozyme, Glucose Oxidase.
What is Petrodex Breath Spray used for?
Petrodex Breath Spray contains a unique, non-foaming formula specifically designed for pets. It is used to help in the control of offensive mouth odors. It helps clean teeth and gums and is safe for sensitive teeth.
How Petrodex Breath Spray should be used?
Shake well before using. Spray teeth, gums and mouth liberally. Use a soft bristled toothbrush to help clean the teeth and gently massage gums. Apply daily or as needed.
What are the side effects?
There are no reported side effects.
What special precautions are there?
For veterinary use only.
In the event of overdose?
Not applicable.
How should I store Petrodex Breath Spray?
Store at room temperature. Keep out of the reach of children.
Disclaimer: The information on this site is for educational purposes only and should NOT be considered veterinary advice. Any veterinary questions should be referred to your veterinarian. This information is NOT to be used for diagnosis or treatment of your pet. Please make your own inquiries with your veterinarian for the suitability of a product for your pet.