Glipizide Pet Medication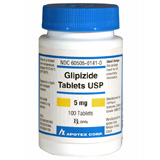 Cat
Availability: Prescription
Active Ingredient(s):

What is Glipizide used for?
Glipizide is used to lower the blood sugar level in diabetic cats.
How Glipizide should be used?
Glipizide is not FDA approved for use in animals; however, it is a commonly accepted practice for veterinarians to use this medication in cats. Give this medication as directed by the veterinarian. Dosages can vary based on the severity of the disease. Give this medication with food.
What are the side effects?
Side effects of glipizide include transient vomiting, loss of appetite and jaundice. Hypoglycemia may occur with symptoms including weakness, wobbling, inability to stand, extreme hunger, shivering, lethargy, shaking, seizures or coma may occur. Hypoglycemia is treated by applying ¼ teaspoonful of Karo syrup to the cat's gums.
What special precautions are there?
Glipizide should not be used in animals allergic to it or sulfa drugs. Do not use in pregnant or nursing animals. Do not use in animals with untreated diseases of the adrenal or pituitary glands or those with liver, kidney or thyroid disease. Use with caution if taken with chloramphenicol, sulfa drugs, NSAIDs and warfarin. Monoamine Oxidase Inhibitors (MAOI's), diuretics and cimetidine may alter the effectiveness of glipizide. Always tell your veterinarian and pharmacist what other medications your pet is taking.
In the event of overdose?
Contact your veterinarian or veterinary emergency room. Symptoms of overdose may include signs of hypoglycemia. Overdose may also affect the liver with symptoms of vomiting, depression, loss of appetite and jaundice.
How should I store Glipizide?
Keep this medication in the container it came in, tightly closed. Store at room temperature, away from excess heat, light and moisture. Do not store in the bathroom. Throw away any medication that is outdated or no longer needed. Keep out of the reach of children and pets.
Disclaimer: The information on this site is for educational purposes only and should NOT be considered veterinary advice. Any veterinary questions should be referred to your veterinarian. This information is NOT to be used for diagnosis or treatment of your pet. Please make your own inquiries with your veterinarian for the suitability of a product for your pet.