Ear Clear Pet Medication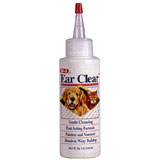 Dog or Cat
Availability: OTC
Active Ingredient(s):
Water, Propylene Glycol, Malic Acid, Salicylic Acid, Benzoic Acid.
What is Ear Clear used for?
Ear Clear ear cleansing solution gently and effectively removes dirt and dissolves waxy build-up.
How Ear Clear should be used?
Apply generously to ear. Gently rub ear with a cotton ball to clean. Repeat if necessary. May be used 3 times a day for 1 or 2 days, then once a day until the ear canal is clean.
What are the side effects?
There are no reported side effects.
What special precautions are there?
For topical use within the ears of dogs and cats. Avoid contact with the eyes.
In the event of overdose?
Not applicable.
How should I store Ear Clear?
Store at room temperature. Keep out of the reach of children.
Disclaimer: The information on this site is for educational purposes only and should NOT be considered veterinary advice. Any veterinary questions should be referred to your veterinarian. This information is NOT to be used for diagnosis or treatment of your pet. Please make your own inquiries with your veterinarian for the suitability of a product for your pet.