Epi-Otic Pet Medication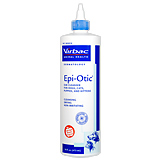 Dog or Cat
Availability: OTC
Active Ingredient(s):
Lactic acid, salicylic acid, chitosanide, PCMX, propylene glycol, sodium docusate.
What is Epi-Otic used for?
Epi-Otic is used in dogs and cats of all ages. It is used for routine ear cleansing of a healthy ear canal or prior to administration of other ear preparations.
How Epi-Otic should be used?
Shake well and apply this product liberally into the ear canal. Gently rub the base of the ear and then wipe the interior of the ear flap with cotton or cloth moistened with the Epi-Otic. This product can be used from 2-3 times a week to daily or as directed by a veterinarian.
What are the side effects?
There are no reported side effects.
What special precautions are there?
This product is for topical use only. Avoid contact with the eyes. Do not use in ears with ruptured ear drums.
In the event of overdose?
Contact your veterinarian or veterinary emergency room.
How should I store Epi-Otic?
Store this product at room temperature. Throw away any product that is outdated or no longer needed. Keep this product out of the reach of children and pets.
Disclaimer: The information on this site is for educational purposes only and should NOT be considered veterinary advice. Any veterinary questions should be referred to your veterinarian. This information is NOT to be used for diagnosis or treatment of your pet. Please make your own inquiries with your veterinarian for the suitability of a product for your pet.