Synotic Otic Pet Medication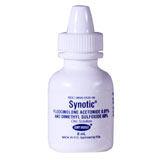 Dog
Availability: Prescription
Active Ingredient(s):

What is Synotic Otic used for?
Synotic Otic Solution is indicated for the relief of itching and inflammation associated with acute and chronic otitis in the dog.
How Synotic Otic should be used?
Synotic Otic Solution is FDA approved for use in dogs only. It is recommended that the affected ear canal be cleansed by some appropriate method prior to the use of this product. The recommended dose of Synotic Otic Solution is 4 to 6 drops per ear twice a day for a maximum of 14 days. Since this product is hygroscopic it is recommended to close the vial tightly after use.
What are the side effects?
Side effects while using Synotic Otic Solution can include a mild stinging sensation that may occur in some animals but will disappear as healing progresses.
What special precautions are there?
This product is for veterinary use in the ear canal of dogs only. Lesions not responsive to therapy may be an indication of infection. Consult a veterinarian for antimicrobial therapy and follow-up. Keep this medication away from the dog's eyes. Do not allow this medication to come in contact with the skin on the bare hand.
In the event of overdose?
Contact your veterinarian or veterinary emergency room. Symptoms of overdose may include weight loss, diarrhea, or intestinal inflammation.
How should I store Synotic Otic?
Synotic Oral Solution is very hygroscopic. Keep the vial tightly closed after use. Store at room temperature. Avoid freezing and excessive heat.
Disclaimer: The information on this site is for educational purposes only and should NOT be considered veterinary advice. Any veterinary questions should be referred to your veterinarian. This information is NOT to be used for diagnosis or treatment of your pet. Please make your own inquiries with your veterinarian for the suitability of a product for your pet.