Zymox Otic Hydrocortisone Free Pet Medication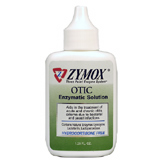 Dog or Cat
Availability: OTC
Active Ingredient(s):
Lactoperoxidase system plus Lysozyme, Lactoferrin
What is Zymox Otic Hydrocortisone Free used for?
Zymox (without hydrocortisone) is used in cats and dogs for the treatment of acute and chronic otitis externa due to bacterial, viral and yeast infections.
How Zymox Otic Hydrocortisone Free should be used?
Apply liberally to fill the ear canal. Gently massage, working the medication into the infected area. Permit the pet to shake their head to remove excess medication. Treat once a day for 7 days for acute infection. Treat once a day for 14 days for chronic infection.
What are the side effects?
There are no reported side effects.
What special precautions are there?
Do not use this product in conjunction with other topical ear medications or cleaners. This product is for animal use only.
In the event of overdose?
not applicable.
How should I store Zymox Otic Hydrocortisone Free?
Store this product at room temperature.
Disclaimer: The information on this site is for educational purposes only and should NOT be considered veterinary advice. Any veterinary questions should be referred to your veterinarian. This information is NOT to be used for diagnosis or treatment of your pet. Please make your own inquiries with your veterinarian for the suitability of a product for your pet.