Miracle Coat Pet Medication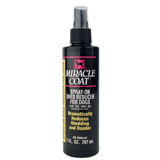 Dog or Cat
Availability: OTC
Active Ingredient(s):
A topical spray made of natural essential nutrients, vitamins and conditioners. Also contains Tea Tree Oil.
What is Miracle Coat used for?
Miracle Coat Spray-On Shed Reducer is a natural and safe way to reduce pet hair in the home.
How Miracle Coat should be used?
Shake vigorously. Lightly mist the entire coat and rub in against hair growth. Apply once a day for the first 3 weeks. Use 1 or 2 times a week thereafter. It is recommended to use 4 sprays on pets up to 40 lbs, 6 sprays on pets 40 to 75 lbs and 8 sprays for pets over 75 lbs.
What are the side effects?
Discontinue use if irritation develops.
What special precautions are there?
This product is for veterinary use only.
In the event of overdose?
Contact a veterinarian or veterinary emergency room.
How should I store Miracle Coat?
Store at room temperature. Keep out of the reach of children.
Disclaimer: The information on this site is for educational purposes only and should NOT be considered veterinary advice. Any veterinary questions should be referred to your veterinarian. This information is NOT to be used for diagnosis or treatment of your pet. Please make your own inquiries with your veterinarian for the suitability of a product for your pet.