Dog Park details for Alamo Square
Alamo Square
Steiner St and Hayes St
San Francisco, CA 94115
3 acre park in the heart of San Franisco - 1/2 of which is legally off-leash. One of the most photographed locations in San Francisco. Postcard views of the "Painted Ladies" Victorians. This park is always very windy so bring a pullover or coat. Usually lots of tourists taking pictures and groups of off-leash dogs having a great time! Location: Located between Hayes, Steiner, Fulton and Scott in San Francisco. The western side is off-leash. Directions: Fell Street or Divisadero Street are main streets from which you can take Hayes, Fulton, Scott or Steiner to get to the park. Street parking only (not an easy task in this neighborhood esp. after 4pm).
Alamo Square directions and map
Below is a map for Alamo Square, please call for specific directions.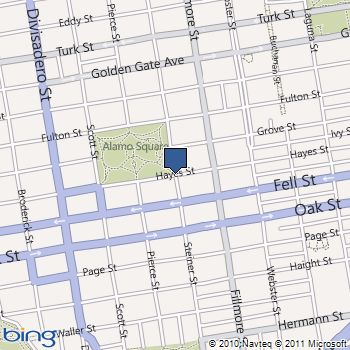 If you would like to add custom text or update the information provided about Alamo Square please email us at [email protected]
Note: PO Boxes will not show correctly on the map below.