Animal Shelter Support donations
Help support the Animal Shelter web site by purchasing a magnetic car ribbon to show you care. Two ribbons are available. The first shows that you support the spaying and neutering of pets. The second shows your support for animal shelters and rescues. The support ribbons are each available for a $6.00 donation which includes the shipping cost. Quantity discounts are available for fundraising purposes. Please fill out our contact form for details.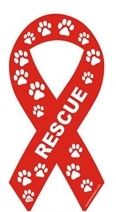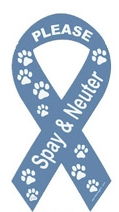 The links below will allow you to make a monthly recurring donation. This means that each month PayPal will automatically draft a specfic dollar amount $5.00, $10.00, or $20.00 donation based on the amount you choose below and continue to withdraw that amount until you cancel the monthly subscription donation. Our In Memory Of donation will allow you to make a donation in memory of a lost pet, or in honor of someone. Click here to visit our In Memory Of page. Please note Donations to the Animal Shelter are not tax-deductible for federal income tax purposes.
$5.00 Monthly Recurring Gift
$10.00 Monthly Recurring Gift
$20.00 Monthly Recurring Gift
In Memory of... One Time Custom Donation