Dog Park details for Howe Park
Howe Park
2201 Cottage Way
Sacramento, CA 95825
"The park is at Howe Avenue and Cottage Way. To get there, take the Capitol City Freeway East (used to be Business 80) from Sacramento. Take the El Camino exit and go East to Howe Avenue, where you will make a right and go south. After the school on the left, you will see the park. Make a left on Cottage Way, and enter the park at the first entrance on the left. The off-leash area of the park (it is fenced) is between the tennis courts and the baseball field. You can see the fenced-in area down the walkway with signs pertaining to this dog park. It is called Howe About Dogs Park. The organization responsible for this park is called SCOOP (Sacramento Canine Owners for Off-leash Parks). Information provided by Paula."
Howe Park directions and map
Below is a map for Howe Park, please call for specific directions.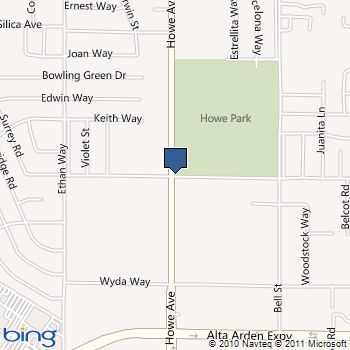 If you would like to add custom text or update the information provided about Howe Park please email us at [email protected]
Note: PO Boxes will not show correctly on the map below.