Dog Park details for Lorenzi Park
Lorenzi Park
3333 West Washington Avenue
Las Vegas, NV 89107
Phone: 702-486-5205
Dog Run. Separate large and small dog runs; each about 1/3 acre. Water and bags provided. New trees, all gravel, covered benches. Park is beautiful with fishing lake, rose garden, picnic areas, tennis courts, museum, etc. The dog runs in comparison were disappointing, not what I'd call a "park", but at least it's a leash free space. Location: 3494 W. Washington Ave. Directions: Hwy 95, north on Rancho, west on Washington, south on Twin Lakes Dr. Dog run in parking lot of Museum/Senior Center.
Lorenzi Park directions and map
Below is a map for Lorenzi Park, please call for specific directions.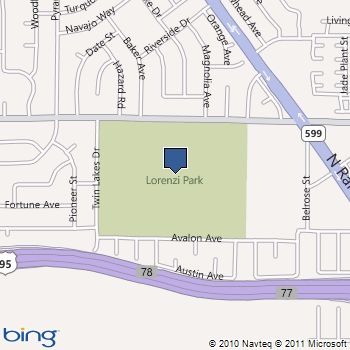 If you would like to add custom text or update the information provided about Lorenzi Park please email us at [email protected]
Note: PO Boxes will not show correctly on the map below.