Fluoxetine Pet Medication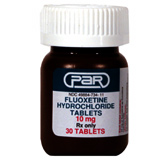 Dog
Availability: Prescription
Active Ingredient(s):

What is Fluoxetine used for?
Fluoxetine is a selective serotonin reuptake inhibitor (SSRI) used for a variety of behavior disorders. It may be beneficial for the treatment of canine aggression and obsessive-compulsive disorders.
How Fluoxetine should be used?
Fluoxetine is not FDA approved for use in veterinary medicine; however, it is a commonly accepted practice for veterinarians to use this medication in dogs and cats. The usual dose in dogs and cats is dependant on the condition being treated and the animal's response to treatment. It may take up to 3 or 4 weeks before the medication becomes effective.
What are the side effects?
Side effects of fluoxetine that may occur include loss of appetite, stomach upset, lethargy, anxiety, restlessness, panting and irritability. Vomiting and jaundice may also occur.
What special precautions are there?
This medication should not be used in animals allergic to it or other drugs in this class. The safety of using fluoxetine in pregnant animals has not been determined. Do not use in lactating females. Use with caution in animals with liver disease and those who have had seizures. Use with caution in diabetic animals. Do not use this product with ephedrine, monoamine oxidase inhibitors (MAOI's) such as selegilene (Anipryl) or amitraz (Preventic Collars, Mitaban Dip). Use with caution when given with warfarin (Coumadin), phenylbutazone, digoxin, diazepam (Valium), buspirone (Buspar), clomipramine (Clomicalm) and other tricyclic antidepressants such as amitriptyline. Always tell your veterinarian and pharmacist what other medications your pet is taking. Do not abruptly discontinue this product. The medication must be gradually reduced following your veterinarians directions.
In the event of overdose?
Contact your veterinarian or veterinary emergency room. Symptoms of overdose may include seizures or liver disease with symptoms of jaundice or vomiting.
How should I store Fluoxetine?
Keep this medication in the container it came in, tightly closed. Store tablets and capsules at room temperature, away from excess heat, light and humidity. Do not store in the bathroom. Throw away any medication that is outdated or no longer needed. Keep this medication out of the reach of children and pets.
Disclaimer: The information on this site is for educational purposes only and should NOT be considered veterinary advice. Any veterinary questions should be referred to your veterinarian. This information is NOT to be used for diagnosis or treatment of your pet. Please make your own inquiries with your veterinarian for the suitability of a product for your pet.